Send a text to (757) 355-5553 to make an appointment or learn more! 
    Sea Eye Care is dedicated to providing the most advanced medical eye care, with individualized focus for you and your family. We have invested in the most advanced medical equipment to provide our patients with the highest of quality eye care.
 
    Our sophisticated instruments not only allows for advanced treatment options, but also convenient eye exams. At Sea Eye Care we utilize a combination autorefraction, retinoscopy, and a careful Refraction to obtain your prescription as precisely as possible. Pressure in the eye is gauged with the iCare tonometer (instead of the "puff of air" or blue light tests). Zeiss' Cirrus OCT is an instrument that can take a picture of the retina while simultaneously performing a scan that measures thicknesses of the back of the eye which can detect eye disease years earlier than previous methods.

    Despite the innovating equipment, the staff and doctor is what really make our practice special. Dr. Komornik looks to achieve the best patient experience possible, allowing ample time to explain exam findings, treatment options, and make sure all patients leave with a great understanding of the health status of their eyes. Our Optical Manager, Rialeigh, takes time with her customers to find the perfect pair of glasses and is knowledgeable in both high-end as well as more cost-effective frame lines.

    Dr. Komornik's training and background provides full scope eye care for all patients' needs from routine contact lens and glasses prescriptions to specialty contact lenses and medical management of eye disease.

    So whether you just need new glasses or contacts, or if you need more focused medical care, Sea Eye Care is here for the people of Norfolk, Virginia Beach, and the rest of Tidewater.
About our Doctor
    Dr. James Komornik is an Optometrist who finds a special interest in the management of conditions requiring specialty contact lenses like keratoconus. He also treats patients with diabetes, glaucoma, dry eye syndrome, blepharitis, and many other ocular diseases.

    Dr. James Komornik graduated with Honors from Salus University's Pennsylvania College of Optometry near Philadelphia, PA after completing the accelerated program from our local Old Dominion University in Norfolk.
His clinical history includes practicing at Philadelphia's The Eye Institute and Will's Eye Hospital, Oklahoma's Jack C. Montgomery Veteran's Affairs Hospital, Pennsylvania's Weaver Eye Associates, and other local practices in Norfolk and Virginia Beach.

    Dr. Komornik is one of the few in Tidewater to have completed a Fellowship of the Scleral Lens Education Society. This specialty contact lens interest sprouted from completing the Cornea, Anterior Segment, and Contact Lens Specialty rotation at The Eye Institute training under Dr. Kriti Bhagat as well as completing an externship at Will's Eye Hospital's Contact Lens Department.

    Dry Eye Syndrome in America is on the rise, and Dr. James Komornik stays up to date on cutting-edge evaluations and treatment options including imaging meibomian glands, inserting punctal plugs, placing amniotic membranes, utilizing new prescription drops, and in-office procedures such as Lidpro.

    He is an active member of the American Optometric Association and Tidewater Optometric Society. He also is part of a group of local optometrists that serve to provide diabetic eye exams keeping close communication with local physicians. See Dr. Komornik's attached Curriculum Vitae for more information.

    Dr. James Komornik is a Tidewater native growing up in the Larkspur borough of Virginia Beach. In 2017, he came full circle moving back to the area with his wife Dr. Arieneh Tahmasian who also practices optometry in the area.

    Outside of eye care, Dr. Komornik's interests include watching basketball, hanging out with his family and friends, going to the beach, playing disc golf (he's terrible at regular golf), recreational volleyball and basketball, cooking, and anything Star Wars and The Flash (yes, nerd alert!).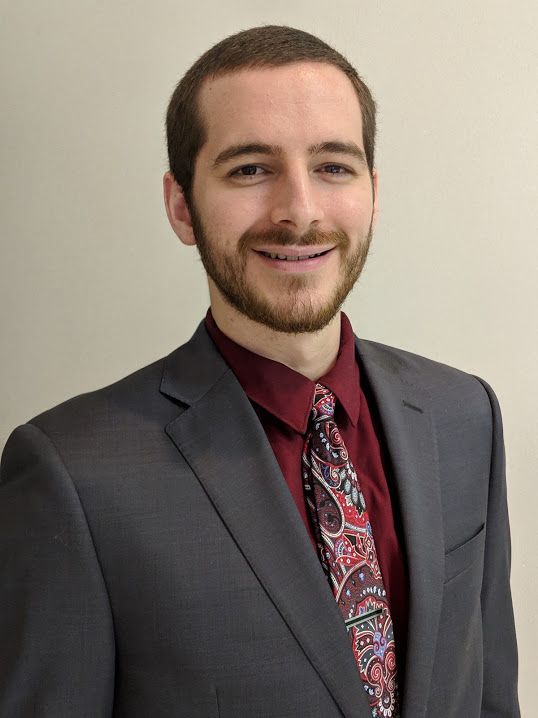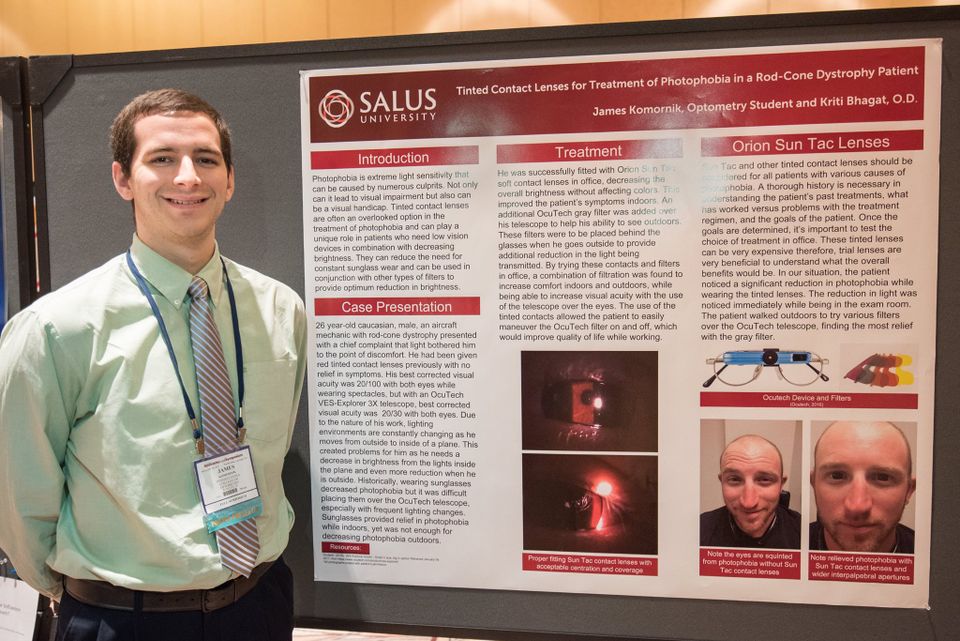 Dr. Komornik has had extensive training in the management of many eye diseases (such as
keraotconus
) with specialty contact lenses. Here, Dr. Komornik's poster case presentation was chosen for display at the Global Specialty Lens Symposium of 2017.

This case report was based on a patient that had significant light sensitivity due to ocular ailments. Sunglasses and tinted eyeglasses would not alleviate his symptoms. He was fit in a specialty, custom soft contact lens. To obtain enough light reduction, a custom front, and back-surface printing was required. The patient noted great relief with the lenses in place, and it also improved his job functioning as he worked with his hands and glasses often got in the way.
(image used with patients permission)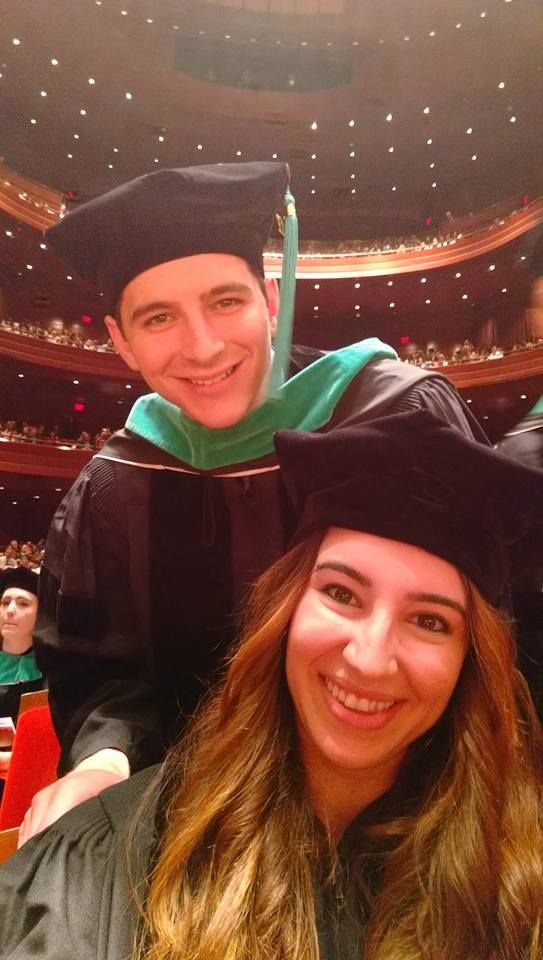 Dr. Komornik and his beautiful wife Dr. Tahmasian at the Salus University's Pennsylvania College of Optometry graduation in Philadelphia. Dr. Tahmasian sat in the first row of students, while Dr. Komornik sat in the second during the ceremony. The soon-to-be doctors were all called forward, from the back forward.

So, as Dr. Komornik walked up to the front they took advantage of the set-up and took a selfie!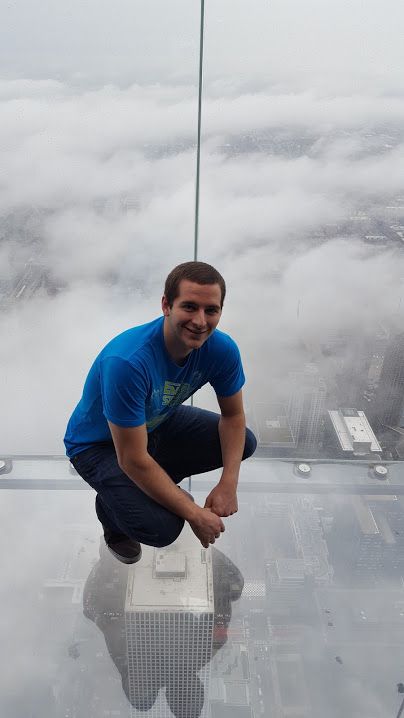 While Dr. Komornik was attending the American Optometric Association Meeting event in Chicago, he visited the Willis Tower.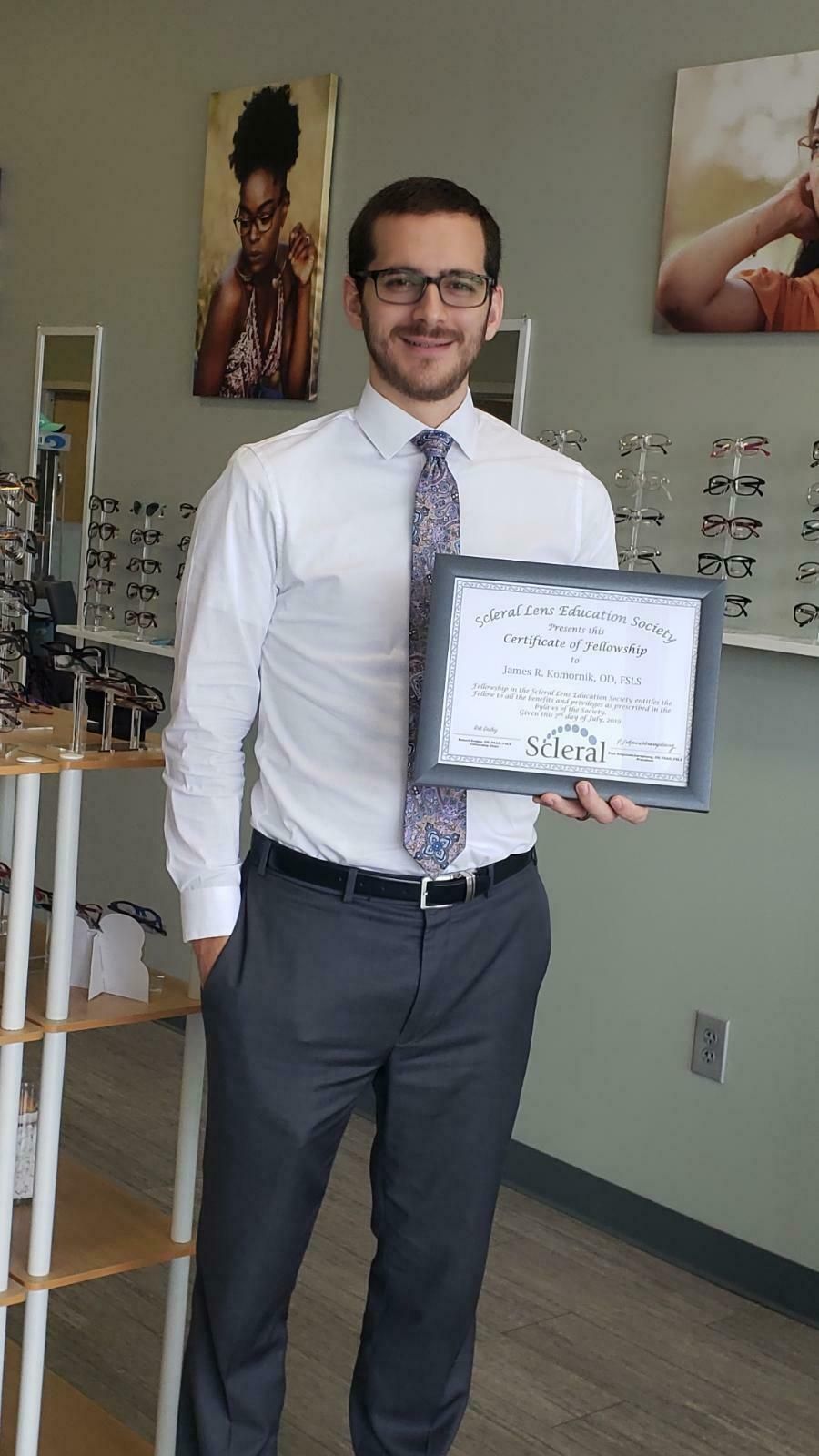 We are proud to say our doctor is one of the only doctors in Tidewater to be fellowship trained in scleral contact lenses. With the many extra hours spent fitting patients with hard to fit contact lenses and long nights of writing abundant peer-reviewed case reports, Dr. Komornik earned his Fellowship of the Scleral Lens Education Society. If you have a condition that requires specialty contact lenses send us a text at 804-505-4280 or call 757-355-5553 to be seen in our Norfolk office today. 
Dr. Komornik's Curriculum Vitae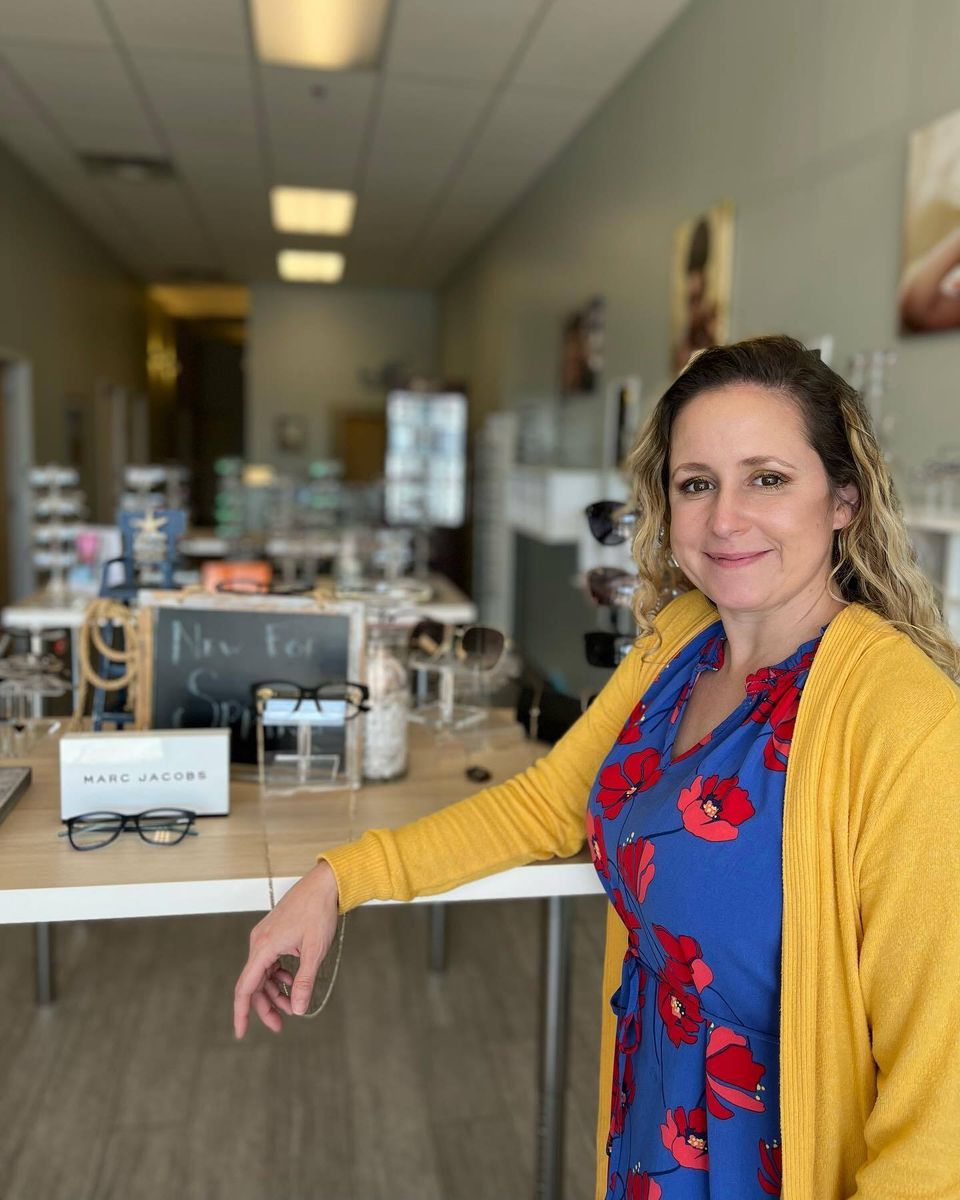 Meet our Optical Manager: Rialeigh
Rialeigh comes to Sea Eye Care with over 13 years of optical experience. She has a degree in opticianry from Durham Tech and has an advanced certification from the American Board of Opticianry. She brings with her a love of fashion and technical expertise gained through continuing education and trade shows. Mid October Rialeigh will be traveling to the Dominican Republic to assist in a pop-up vision clinic located in impoverished areas.

Rialeigh is a native of Chesapeake but has traveled all over the world as a military spouse. She and her family (Husband and two children) are back here for the long-run. In her free time she enjoys backpacking and hiking in the Shenandoah and home DIY projects.

Rialeigh looks forward to helping you look and see your best at Sea Eye Care.